Mountain House Central Community Park – Phase 2
Music, matches and mutts! The residents of Mountain House can look forward to enjoying more of these sounds in their community in the near future. vTA is excited to be selected by Mountain House Developers, LLC to prepare landscape designs for the next phase of Central Community Park including an outdoor amphitheater, tennis facility expansion and off-leash dog park. Located east of Town Hall, the 2500 capacity outdoor amphitheater will host concerts, live theater and community events and include a roofed performance stage with storage buildings, vendor tent areas, outdoor dining patios and varied seating options from the lower pit chairs nearest the stage, the central terraced turf seatwalls and the upper sloped turf bowl. The gated tennis facility expansion, located west of the existing tennis courts, will include 6 fenced courts with shaded bleacher viewing areas, covered players benches and an outdoor dining plaza with a combination tennis pro office and restroom building. The dog park will have separated fenced areas for large versus small breeds, as well as double-trap entry gates, meandering pathways, roofed shade structure, canine agility course, shaded bench seating, hydration/hose-down stations and specimen shade trees with seatwalls.
Homestead Village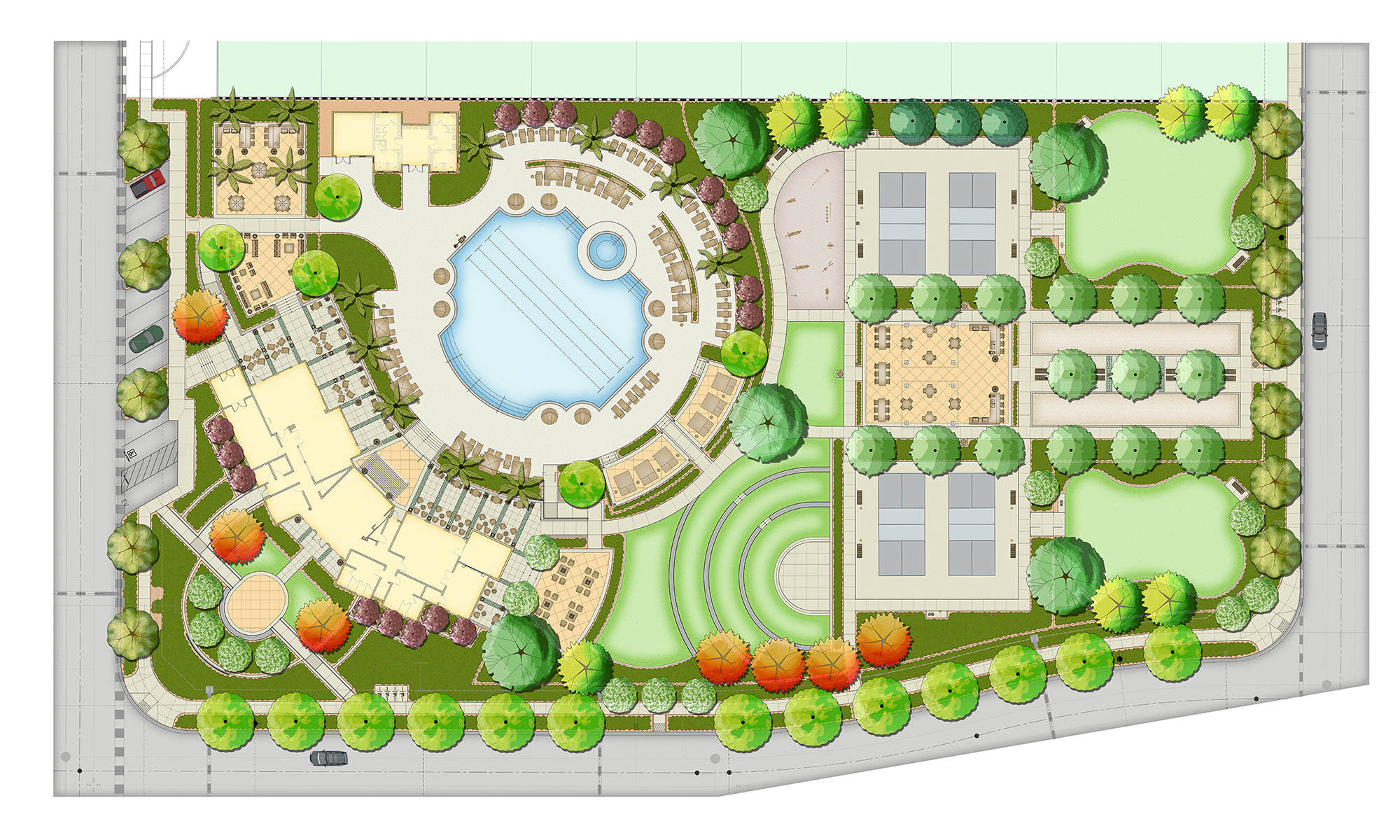 Homestead Village is a master planned community under construction in the City of Dixon, California. Within this community is the Four Seasons Active Adult Amenity Center. The Amenity Center includes a clubhouse, pool and spa area, fire pits, covered patios, and several courtyards. A shaded patio offers outdoor kitchens with BBQs, bar seating and gathering areas for dining. Other amenities around the recreation area include four pickle ball courts, two bocce ball courts, and a dog park.
Summer Lake
We are excited to continue our work in Oakley with the design of Summer Lake North. This community is to the north of the Summer Lake development, which we had a hand in designing as well. The new Summer Lake North community will have its own lake central to the development with linear parks connecting the neighborhoods.